Get ready to return to sunny Galveston, TX for Oni-Con 2024!
Do you love anime, manga and video games? Are you a fan of Japanese culture?
Expand your horizons with our programming! Conquer your rivals in our Battlegrounds or Table Top Gaming! Find new treasures in the Dealer's Room or Artist Alley! Come to the beach and join in all the fun!
Weekend Pre-Reg
A 3-Day Weekend Pre-Registration for an adult.
Available through Dec 31st
$40.00+$2.00 service fee
Hidden
This accordion is hidden to keep the first accordion element from showing as open by default.
Registration Hours
Thursday Nov 10th
7pm – 11pm
(May pickup Weekend Pass, Child Weekend Pass, and Friday 1-Day Pass on Thursday. Saturday and Sunday 1-Day Passes must be picked up on each respective day. No Passes may be purchased On-Site on Thursday.)
Friday Nov 10th
9:30am – 9pm
Saturday Nov 11th
9:30am – 9pm
Sunday Nov 12th
10am – 3pm
13 And Over
Anyone 13 to 18 (and over) is considered an adult and discretion is left to the parent/guardian/agent thereof as to whether or not they must be accompanied while in convention spaces.
Children 12 And Under
One FREE Weekend Child Pass (Age 6-12) will be given for each On-Site/At-Convention Weekend Pass purchased (no free Child Pass for Online Registrations or Pre-Registrations). The child must be present for visual verification and the Weekend Pass must be purchased and used by the child's parent, guardian or agent thereof (who must be 18 and up) and the parent/guardian/agent thereof must accompany the child at all times.
Service Fee
A service fee of $2.00 is being implemented for Oni-Con 2024: The Anniversary to ensure a smooth and efficient Registration experience. The service fee is not being imposed by regIT but is being implemented by Oni-Con as a way to cover/defer credit card and other costs. The service fee is required for every individual attendee badge.
Group Discount
When purchasing 10 or more Pre-Registration Passes, each Pre-Registration Pass will be discounted by $5 automatically. All Passes must be purchased in the same cart/transaction for the discounted rate to be applied automatically before you checkout. Group discounts will only apply to Pre-Registration Passes and may not be used for Online Registration Passes or On-Site/At-Convention Registration Passes. Additional Pre-Registration Passes can not be added to a cart after the cart has already been paid for.
School Club Discount
If you are purchasing Pre-Registration Passes for your school club/group, then you are eligible for a combined discount of $10 off per Pre-Registration Pass (combined between the Group Discount for 10+ Pre-Registrations of $5 off per Pre-Registration and the school discount code of $5 off per Pre-Registration). This discount is only valid for Pre-Registration and is not applied automatically but is a discount code that you may request by emailing
registration@reg-it.org
and requesting a school club/group discount code.
The deadline for requesting AND providing paperwork to receive a school club/group discount is Sept 20th, 2024 at 11:59pm CT.
No discount codes will be provided after this time for any reason so please plan accordingly. You must provide both of the following documents (but it may be provided as one document) in your email as proof that your group is an officially sanctioned school club/group:
paperwork from your school indicating your official status as a sanctioned school club/group, and
a letter (on official school letterhead) from your school administrator approving your school club/group's attendance of Oni-Con 2024: The Anniversary.
These documents may be provided in PDF format via email in order to receive the school club/group discount code but must also be provided as signed (where necessary) paper copies when picking up your school club/group's Pre-Registration Passes at the convention. Failure to provide this paperwork when picking up Pre-Registration Passes may void your school club/group's discount and require the payment of the difference ($5 per Pre-Registration Pass; you would still receive the Group Discount for 10+ Pre-Registrations) before Passes may be picked up.
Refund/Pass Transfer Policy
It is the policy of Oni-Con to not issue any refunds or credits for any reason.
You may, however, transfer your Pass to a new Pass owner (although you would be responsible for receiving any money from the new Pass owner in the process of doing a Pass transfer).
If you would like to transfer your Pass to a new Pass owner, please forward your barcoded Confirmation email to registration@reg-it.org, before September 20th, 2024, along with the following information about the new Pass owner at the top of the email body:
First Name:
Last Name:
Badge Name:
Date of Birth:
Phone Number:
Email:
Street Address:
City:
State:
Zip Code:
More information coming soon.
Hilton Galveston Island Resort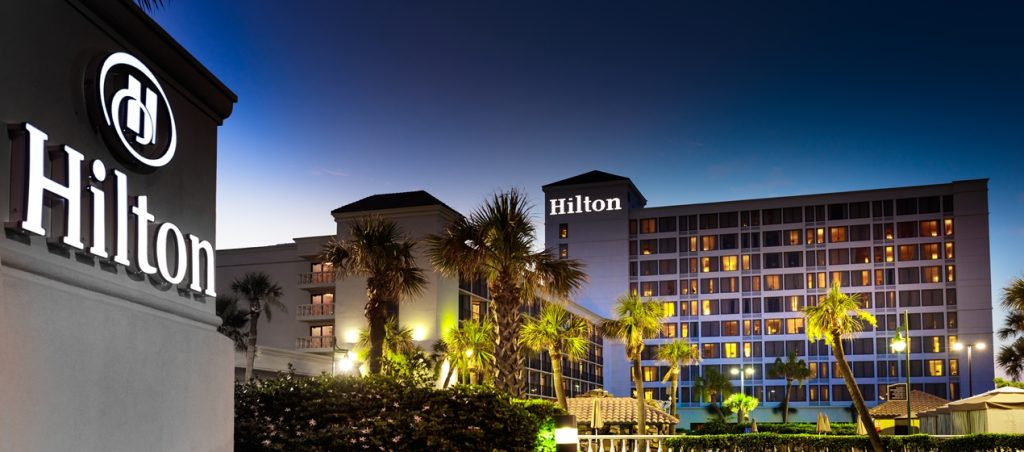 5400 Seawall Blvd
Galveston, TX 77551
Phone: (409) 744-5000
The Hilton is the closest hotel to the Galveston Island Convention Center as well as host to part of Oni-Con's programming on the first floor. These panel rooms can be accessed from the lobby. If you're looking to be closest to the Oni-Con action, then the Hilton is the perfect place to stay for the weekend.
Situated on historic Seawall Boulevard, Hilton Galveston Island Resort is just steps from the beach and is within walking distance of fishing piers, shopping and a plethora of restaurants, 10 of which are located on the 32-acre resort. Relax in a cozy guest room and marvel at breathtaking views of the Gulf of Mexico from your private balcony or upgrade to a suite with separate living space, enough room for the entire family.
Plunge into this Galveston resort's tropically heated outdoor swimming pool and savor cool cocktails and light dishes from the seasonal swim-up bar. For added exclusivity, reserve a poolside cabana, complete with ceiling fan, fresh fruit, expedited food and beverage service and seating for four. Stay active in the fitness center or take a walk on the beach, just steps from the resort. Indulge in innovative food at the on-site restaurant Palm Court or enjoy fresh Gulf seafood at Landry's Seafood, located adjacent to the resort. Treat the family to an adventure at Rainforest Cafe and watch a volcano eruption or enjoy a pancake breakfast at the 24-hour IHOP.
Located just steps away from The Galveston Island Convention Center at The San Luis Resort, this AAA Four Diamond award-winning Galveston resort offers 13 meeting spaces for your next corporate meeting or company retreat. Celebrate your wedding on the tropical garden terrace or private Crystal Ballroom. For business or pleasure, Hilton Galveston Island Resort makes the perfect retreat.
Book with Hilton Galveston Island Resort
Booking link and information coming soon.

The San Luis Resort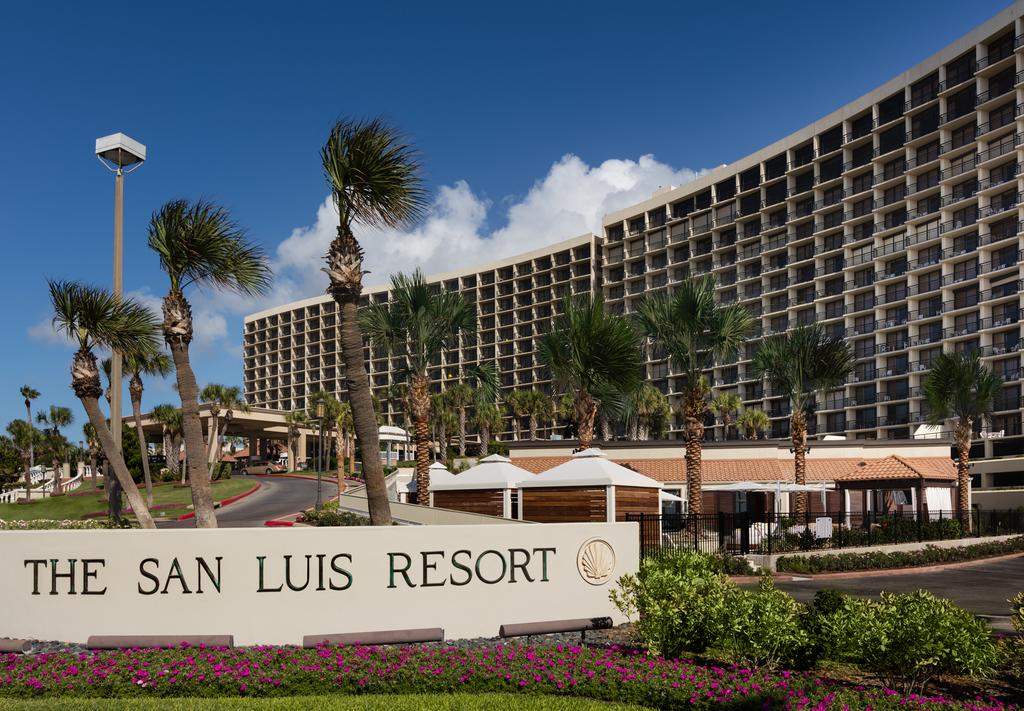 5222 Seawall Blvd
Galveston, TX 77551
Phone: (409) 744-1500
The San Luis is the height of luxury! If you're looking to treat yourself, look no further than this beautiful resort hotel! Beautiful pools, fantastic rooms with ocean views. The San Luis is the place to really kick back and relax during the convention.
Discover unparalleled luxury at The San Luis Resort, Spa & Conference Center, a 30-acre year-round beach front hotel and spa resort property on beautiful Galveston Island, Texas. Recipient of the AAA Four Diamond Award® since 2000, The San Luis Resort offers the perfect Galveston hotel and resort experience with lavish accommodations, breathtaking Gulf views and personalized service.
Dine in their award-winning restaurants, enjoy luxurious resort amenities and then step into the excitement of historic Galveston Island, which boasts a wide array of activities on land and sea with 32 miles of sun-drenched beaches, historic sites and famed shopping.
For their guests in need of some pampering, the world-class Spa San Luis offers a full-service spa, salon and fitness center. Sip a refreshing cocktail in their fabulous H2O ultra lounge or amid tranquil waters at our swim-up pool bar. Savor the freshest seafood and USDA prime cuts of beef at the award-winning Steakhouse or enjoy family-friendly fun at the Rainforest Cafe. After a day of basking in the sun and exploring all that the Island has to offer, relax and unwind in their Gulf-view guest rooms, which exude luxury and comfort.
You're invited to experience the very best for yourself in style, elegance and comfort at the San Luis Resort on the Texas Gulf Coast. Situated right on Galveston beach, the San Luis Resort isn't only a hotel and spa resort, but also a perfect venue for when you're planning a large conference, a series of small meetings or a beautiful, beach front wedding reception. Whether for meetings, weddings, a Galveston vacation with the family or a romantic getaway weekend for two, The San Luis Resort will accommodate your needs efficiently, graciously and completely.
Book with The San Luis Resort
Booking link and more information coming soon.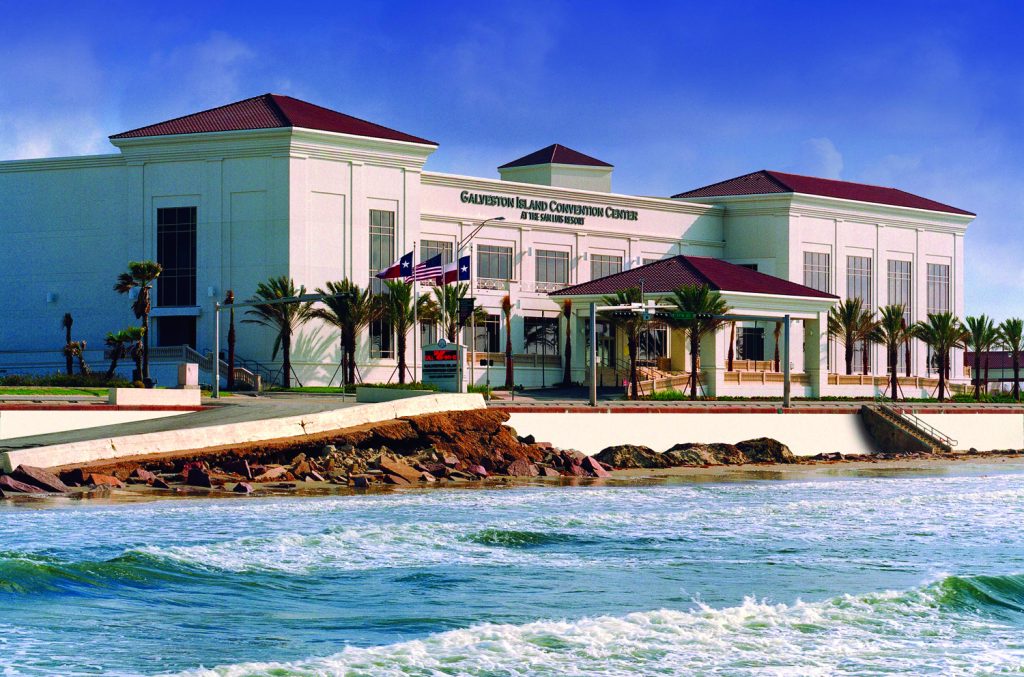 Website:
https://www.visitgalveston.com/meetings-groups/galveston-island-cc/
Physical Address:
5600 Seawall Blvd
Galveston, TX 77551
Oni-Con will be held this year at the Galveston Island Convention Center. This has been our home since 2011 and we couldn't be happier to be here. We are honored for the support that Galveston Island gives us and are delighted that attendees can enjoy a fun, exciting weekend retreat at the beach!
If you have that anxious feeling where you know you need to get away, the answer is easy. It's island time! Leave the stiff and boring behind for the excitement of Galveston Island's beachfront facilities in one of Texas' top tourism destinations. Located just 50 minutes from Houston, this tropical island offers more than 5,000 sleeping rooms, 32 miles of beaches, rich history and culture, unique shopping and a variety of world-class attractions to make your meeting far from ordinary.
Offering sweeping views of the Gulf's sparkling waters, the Galveston Island Convention Center at the San Luis Resort is the perfect meeting destination. Located on Galveston's famous Seawall Boulevard, this 140,000 square-foot property combines executive conference facilities with luxurious amenities as well as complimentary wireless Internet, shuttle services and on-site parking.
Guest information coming soon!
Mask / Covid Policy
Oni-Con encourages attendees to take precautions for their own safety. Masks use is highly encouraged while inside the convention center. Additionally, masks will be required while at Registration or interacting with Registration staff. This is for the safety of our staff.
We also ask that all attendees politely respect the Guest's wishes if they request you have a mask on during their autograph sessions.
We remind you that proof of vaccination and masks are required to participate in the Oni-Con Battlegrounds events.
We thank you in advance for your cooperation.
General Conduct Policy
Please be kind and courteous to your fellow attendees, guests, dealers, and staff at all times. Disruptive behavior is not allowed.
Oni-Con follows and adheres to federal, state and local laws at the convention, just as you would at home.
Convention staff, guests, and attendees may not be in possession of any item defined as a weapon, Illegal or not. (see weapons policy for more detail)
Convention staff, guests, and attendees may not bring any animals onto the premises, with the exception of ADA working animals with the proper verification and papers.
Badges must be worn at all times, and must be visible.
Shoes must be worn at all times.
No sleeping in any convention areas at any time.
Alcohol is not permitted in any convention Space.
Usage or possession of illegal drugs is strictly forbidden.
Oni-Con badges must be purchased in order to enter any convention space. If you do not have a badge you may be asked to leave until you purchase one.
Harassment Policy
Harassment of any kind, including physical, verbal, or unwelcome attentions will not be tolerated.
Do not hug, grab, kiss, or glomp anyone who has not given you explicit permission or consent.
Verbal harassment will also not be tolerated. This includes derogatory terms, hate speech, and all manners of verbal abuse.
Any action or behavior that causes interference with convention operations, makes other attendees uncomfortable, or adversely affects the convention's relationship with its guests, the venue, or the public is not allowed.
Violations of this policy will result in your badge being taken and you being asked to leave. Law Enforcement may be involved in particularly egregious cases.
The rules most certainly apply to cosplayers. Cosplay is not consent.
What to do if you feel you are being harassed:
If you feel you are in imminent danger, please find the nearest uniformed police officer and let them know what is going on. Otherwise, find the nearest staff member and let them know that you would like to speak to the Director of Safety or his assistant about a harassment incident.
Try to remember as many details about the incident, and about the person who harassed you, as possible. Take down the names of any witnesses.
Event and Line Policy
Please keep lines single file, and stay close to the walls/barricades.
No cutting, or shoving into lines
Don't argue with the staff if they attempt to correct or give you suggestions.
Keep in mind that the staff is not yelling at you, but they have to speak loudly enough for the entire line to hear which can be difficult at times.
When the event space opens, please fill in seats. Try not to leave empty spaces.
Any event specific rules will be announced at the start of the event. Please listen while they are being announced.
Programming and schedules have a habit of changing without a great deal of notice. While we realize that it can be annoying to you, the attendees, it does happen.
Music and Dance Events Policy
Safety staff reserves the right to refuse entry.
No bags larger than a handbag are allowed inside. This includes: laptop bags, backpacks, duffle bags, and messenger bags.
Safety staff will not be responsible for bags/items.
Safety Staff may initiate a voluntary bag/pocket check for contraband.
Shoes must be worn at all times.
The stage area is restricted. All areas backstage and behind the stage perimeter are restricted areas as well.
Harassment of any type will not be tolerated. If you are being harassed, please indicate so to one of the safety members.
Any solicitation of alcohol or drugs, will lead to an immediate expulsion from the convention (without refund), and turned over to the local authorities.
No light sabers, prop swords, or weapons of any type allowed in the dance
String lights or swinging of any item on strings must be done on the outer perimeter of the dance area.
Throwing anything at or on the stage will result in removal from the dance
No fighting, or "dance fighting"
Dance Circles are prohibited, and will be broken up…
Be aware that there will be flashing lights, and the possibility of a fog machine or hazer. Attendees with a history of seizures, asthma, or any other condition that may be aggravated by these elements should avoid this event.
Oni-Con Cosplay, Weapons, and Props Policy
The Costume Contest is a special event that will have its own special rules for cosplay props and weapons you can use for your costumes during a performance or the main show.
Any exceptions made during the show are only for the show. Any item that is approved for Cosplay but not for the general con must be taken directly to and from the Cosplay contest, with no side trips or delays.
NO LIVE STEEL. At all, even peace-bonded.
If you buy any weapon from the dealer's room it must be transported out of the convention immediately to your room or car.
It may not be carried around without being in a box of some sort, dealers know this and will provide it to you.
Do not remove the item from this box.
Airsoft guns will have their barrels taped up by the safety desk. Do not remove this covering.
Same rules about items from the dealers room apply.
All approved props will be marked.
You agree that Oni-Con is not responsible for damage to your props.
Props that present a danger to others because of weight or sharp edges or any other reason may be disallowed at any time.
Do not swing props around.
Do not engage in any sort of mock combat or strike anyone with props, even for fun.
No firing of projectiles of any kind.
Any violations of these rules may result in you getting ejected from the con without a refund, and/or Law Enforcement getting involved.
A few guidelines about acceptable props:
No metal.
No glass.
Light woods only. While a dowel rod is okay, a baseball bat or 2×4 is not.
If your prop is heavy, it needs to be well padded.
Avoid points or sharp edges.