More information coming soon!
Get ready to return to sunny Galveston, TX for Oni-Con XX (2023)!
Do you love anime, manga and video games? Are you a fan of Japanese culture?
Expand your horizons with our programming! Conquer your rivals in our Battlegrounds or Table Top Gaming! Empty your wallet in the Dealer's Room or Artist Alley! Come to the beach and join in all the fun!
Weekend Pre-Reg
A 3-Day Weekend Pre-Registration for an adult.
$40.00+$2.00 service fee
Hidden
This accordion is hidden to keep the first accordion element from showing as open by default.
Registration Hours
Thursday Nov 10th
7pm – 11pm
(May pickup Weekend Pass, Child Weekend Pass, and Friday 1-Day Pass on Thursday. Saturday and Sunday 1-Day Passes must be picked up on each respective day. No Passes may be purchased On-Site on Thursday.)
Friday Nov 11th
9:30am – 9pm
Saturday Nov 12th
9:30am – 9pm
Sunday Nov 13th
10am – 3pm
Children 12 And Under
One FREE Weekend Child Pass (Age 6-12) will be given for each On-Site/At-Convention Weekend Pass purchased (no free Child Pass for Online Registrations or Pre-Registrations). The child must be present for visual verification and the Weekend Pass must be purchased and used by the child's parent, guardian or agent thereof (who must be 18 and up) and the parent/guardian/agent thereof must accompany the child at all times.
Service Fee
A service fee of $2.00 is being implemented for Oni-Con XIX (2022) to ensure a smooth and efficient Registration experience. The service fee is not being imposed by regIT but is being implemented by Oni-Con as a way to cover/defer credit card and other costs. The service fee is required for every individual attendee badge.
Group Discount
When purchasing 10 or more Pre-Registration Passes, each Pre-Registration Pass will be discounted by $5 automatically. All Passes must be purchased in the same cart/transaction for the discounted rate to be applied automatically before you checkout. Group discounts will only apply to Pre-Registration Passes and may not be used for Online Registration Passes or On-Site/At-Convention Registration Passes. Additional Pre-Registration Passes can not be added to a cart after the cart has already been paid for.
School Club Discount
If you are purchasing Pre-Registration Passes for your school club/group, then you are eligible for a combined discount of $10 off per Pre-Registration Pass (combined between the Group Discount for 10+ Pre-Registrations of $5 off per Pre-Registration and the school discount code of $5 off per Pre-Registration). This discount is only valid for Pre-Registration and is not applied automatically but is a discount code that you may request by emailing
registration@reg-it.org
and requesting a school club/group discount code.
The deadline for requesting AND providing paperwork to receive a school club/group discount is October 9th, 2023 at 11:59pm CT.
No discount codes will be provided after this time for any reason so please plan accordingly. You must provide both of the following documents (but it may be provided as one document) in your email as proof that your group is an officially sanctioned school club/group:
paperwork from your school indicating your official status as a sanctioned school club/group, and
a letter (on official school letterhead) from your school administrator approving your school club/group's attendance of Oni-Con XX (2023).
These documents may be provided in PDF format via email in order to receive the school club/group discount code but must also be provided as signed (where necessary) paper copies when picking up your school club/group's Pre-Registration Passes at the convention. Failure to provide this paperwork when picking up Pre-Registration Passes may void your school club/group's discount and require the payment of the difference ($5 per Pre-Registration Pass; you would still receive the Group Discount for 10+ Pre-Registrations) before Passes may be picked up.
Refund/Pass Transfer Policy
It is the policy of Oni-Con to not issue any refunds or credits for any reason.
You may, however, transfer your Pass to a new Pass owner (although you would be responsible for receiving any money from the new Pass owner in the process of doing a Pass transfer).
If you would like to transfer your Pass to a new Pass owner, please forward your barcoded Confirmation email to registration@reg-it.org, before October 10th, 2022, along with the following information about the new Pass owner at the top of the email body:
First Name:
Last Name:
Badge Name:
Date of Birth:
Phone Number:
Email:
Street Address:
City:
State:
Zip Code: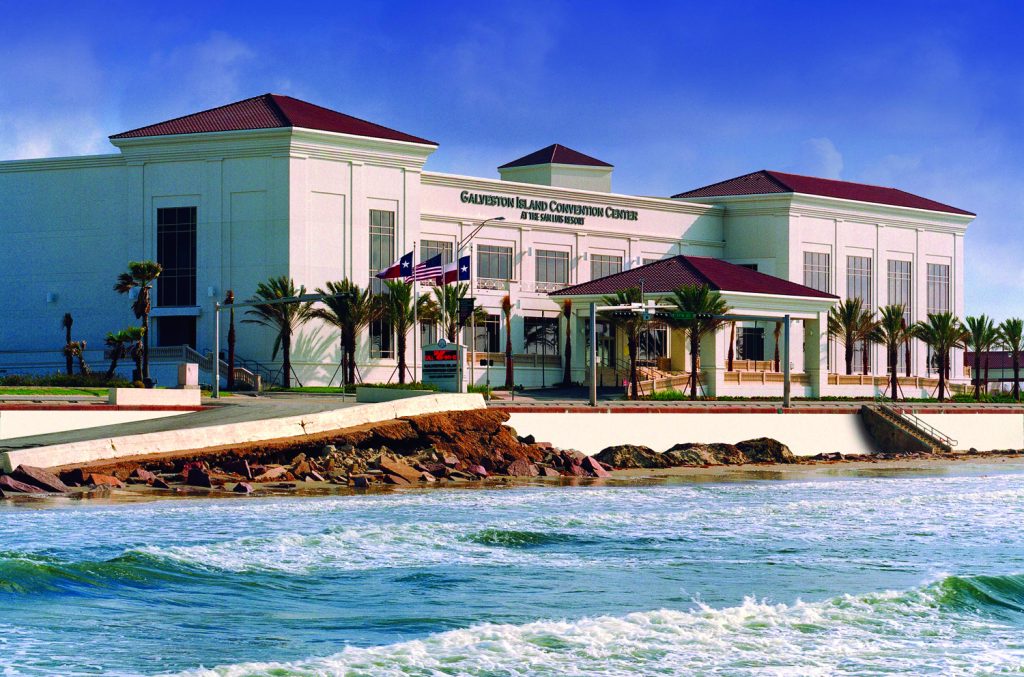 Website:
https://www.visitgalveston.com/meetings-groups/galveston-island-cc/
Physical Address:
5600 Seawall Blvd
Galveston, TX 77551
Oni-Con will be held this year at the Galveston Island Convention Center. This has been our home since 2011 and we couldn't be happier to be here. We are honored for the support that Galveston Island gives us and are delighted that attendees can enjoy a fun, exciting weekend retreat at the beach!
If you have that anxious feeling where you know you need to get away, the answer is easy. It's island time! Leave the stiff and boring behind for the excitement of Galveston Island's beachfront facilities in one of Texas' top tourism destinations. Located just 50 minutes from Houston, this tropical island offers more than 5,000 sleeping rooms, 32 miles of beaches, rich history and culture, unique shopping and a variety of world-class attractions to make your meeting far from ordinary.
Offering sweeping views of the Gulf's sparkling waters, the Galveston Island Convention Center at the San Luis Resort is the perfect meeting destination. Located on Galveston's famous Seawall Boulevard, this 140,000 square-foot property combines executive conference facilities with luxurious amenities as well as complimentary wireless Internet, shuttle services and on-site parking.