Get ready to return to sunny Galveston, TX for Oni-Con XIX (2022)!
Do you love anime, manga and video games? Are you a fan of Japanese culture?
Expand your horizons with our programming! Conquer your rivals in our Battlegrounds or Table Top Gaming! Empty your wallet in the Dealer's Room or Artist Alley! Come to the beach and join in all the fun!
Online Registration is now closed.
Sunday Registration
A 1-Day Sunday Registration for an adult.
$20.00
Child Weekend Reg
A 3-Day Weekend Registration for a child 6-12 years old.
$25.00
Free Child Weekend Reg
A Free 3-Day Weekend Registration for a child 5 years old and under.
$0.00
Hidden
This accordion is hidden to keep the first accordion element from showing as open by default.
Registration Hours
Thursday Nov 10th
7pm – 11pm
(May pickup Weekend Pass, Child Weekend Pass, and Friday 1-Day Pass on Thursday. Saturday and Sunday 1-Day Passes must be picked up on each respective day. No Passes may be purchased On-Site on Thursday.)
Friday Nov 11th
9:30am – 9pm
Saturday Nov 12th
9:30am – 9pm
Sunday Nov 13th
10am – 3pm
Children 12 And Under
One FREE Weekend Child Pass (Age 6-12) will be given for each On-Site/At-Convention Weekend Pass purchased (no free Child Pass for Online Registrations or Pre-Registrations). The child must be present for visual verification and the Weekend Pass must be purchased and used by the child's parent, guardian or agent thereof (who must be 18 and up) and the parent/guardian/agent thereof must accompany the child at all times.
Service Fee
A service fee of $2.00 is being implemented for Oni-Con XIX (2022) to ensure a smooth and efficient Registration experience. The service fee is not being imposed by regIT but is being implemented by Oni-Con as a way to cover/defer credit card and other costs. The service fee is required for every individual attendee badge.
Group Discount
Not available after Pre-Registration has ended.
When purchasing 10 or more Pre-Registration Passes, each Pre-Registration Pass will be discounted by $5 automatically. All Passes must be purchased in the same cart/transaction for the discounted rate to be applied automatically before you checkout. Group discounts will only apply to Pre-Registration Passes and may not be used for Online Registration Passes or On-Site/At-Convention Registration Passes. Additional Pre-Registration Passes can not be added to a cart after the cart has already been paid for.
School Club Discount
Not available after Pre-Registration has ended.
If you are purchasing Pre-Registration Passes for your school club/group, then you are eligible for a combined discount of $10 off per Pre-Registration Pass (combined between the Group Discount for 10+ Pre-Registrations of $5 off per Pre-Registration and the school discount code of $5 off per Pre-Registration). This discount is only valid for Pre-Registration and is not applied automatically but is a discount code that you may request by emailing
registration@reg-it.org
and requesting a school club/group discount code.
The deadline for requesting AND providing paperwork to receive a school club/group discount is October 9th at 11:59pm CT.
No discount codes will be provided after this time for any reason so please plan accordingly. You must provide both of the following documents (but it may be provided as one document) in your email as proof that your group is an officially sanctioned school club/group:
paperwork from your school indicating your official status as a sanctioned school club/group, and
a letter (on official school letterhead) from your school administrator approving your school club/group's attendance of Oni-Con XIX (2022).
These documents may be provided in PDF format via email in order to receive the school club/group discount code but must also be provided as signed (where necessary) paper copies when picking up your school club/group's Pre-Registration Passes at the convention. Failure to provide this paperwork when picking up Pre-Registration Passes may void your school club/group's discount and require the payment of the difference ($5 per Pre-Registration Pass; you would still receive the Group Discount for 10+ Pre-Registrations) before Passes may be picked up.
Refund/Pass Transfer Policy
Pass Transfer not available after Pre-Registration has ended.
It is the policy of Oni-Con to not issue any refunds or credits for any reason.
You may, however, transfer your Pass to a new Pass owner (although you would be responsible for receiving any money from the new Pass owner in the process of doing a Pass transfer).
If you would like to transfer your Pass to a new Pass owner, please forward your barcoded Confirmation email to registration@reg-it.org, before October 10th, 2022, along with the following information about the new Pass owner at the top of the email body:
First Name:
Last Name:
Badge Name:
Date of Birth:
Phone Number:
Email:
Street Address:
City:
State:
Zip Code:
The most up to date schedule, map and other convention information can be accessed through the Oni-Con XIX (2022) Guidebook (
https://guidebook.com/g/oni22/
).
Visit Galveston Savings Pass
Explore Galveston and experience significant savings using this free mobile passport! Save at local attractions, restaurants, historic sites, art galleries and lots of shops. What are you waiting for? It's Island Time!
Get Your Visit Galveston Savings Pass
Promo Code: ONICON22
To find out more information about signing up to Volunteer for Oni-Con XIX (2022), please go to the Volunteer Signup form.
Artist Alley Table
Remaining: 0 (Closed)
A single table in the Artist Alley for Oni-Con 2022.
$110
Dealers Room Booth
Remaining: 0 (Closed)
A booth in the Dealers Room for Oni-Con 2022.
$400+
To view full table and booth pricing information and available Dealers Room booths, please go to the Vendor Registration form.
Hilton Galveston Island Resort
5400 Seawall Blvd
Galveston, TX 77551
Phone: (409) 744-5000
The Hilton is the closest hotel to the Galveston Island Convention Center as well as host to part of Oni-Con's programming on the first floor. These panel rooms can be accessed from the lobby. If you're looking to be closest to the Oni-Con action, then the Hilton is the perfect place to stay for the weekend.
Situated on historic Seawall Boulevard, Hilton Galveston Island Resort is just steps from the beach and is within walking distance of fishing piers, shopping and a plethora of restaurants, 10 of which are located on the 32-acre resort. Relax in a cozy guest room and marvel at breathtaking views of the Gulf of Mexico from your private balcony or upgrade to a suite with separate living space, enough room for the entire family.
Plunge into this Galveston resort's tropically heated outdoor swimming pool and savor cool cocktails and light dishes from the seasonal swim-up bar. For added exclusivity, reserve a poolside cabana, complete with ceiling fan, fresh fruit, expedited food and beverage service and seating for four. Stay active in the fitness center or take a walk on the beach, just steps from the resort. Indulge in innovative food at the on-site restaurant Palm Court or enjoy fresh Gulf seafood at Landry's Seafood, located adjacent to the resort. Treat the family to an adventure at Rainforest Cafe and watch a volcano eruption or enjoy a pancake breakfast at the 24-hour IHOP.
Located just steps away from The Galveston Island Convention Center at The San Luis Resort, this AAA Four Diamond award-winning Galveston resort offers 13 meeting spaces for your next corporate meeting or company retreat. Celebrate your wedding on the tropical garden terrace or private Crystal Ballroom. For business or pleasure, Hilton Galveston Island Resort makes the perfect retreat.

The San Luis Resort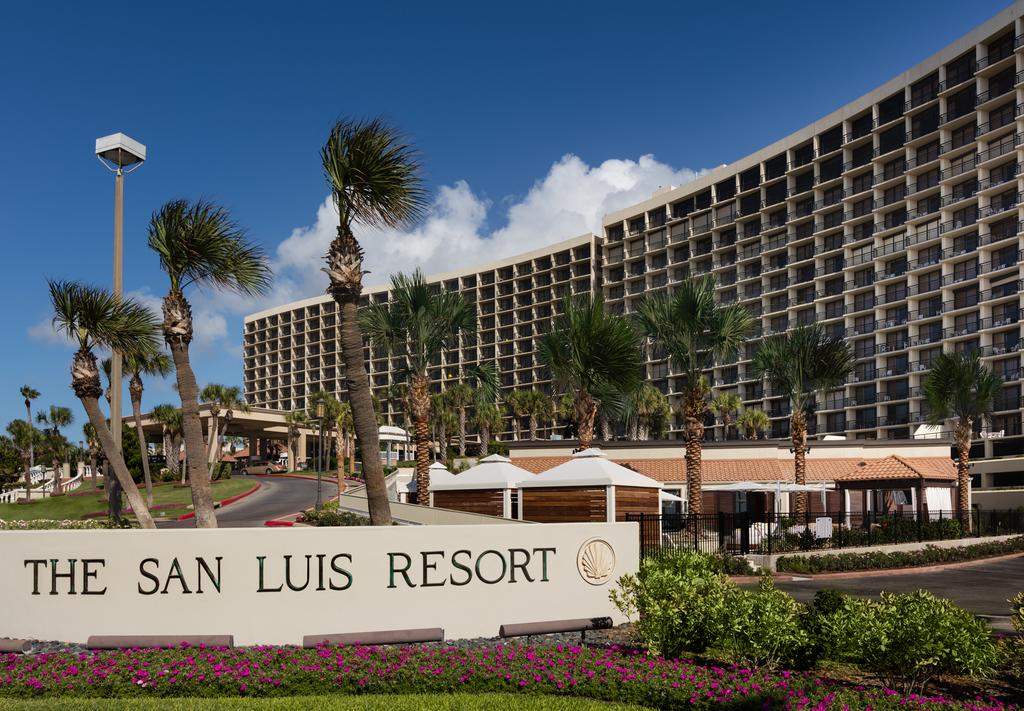 5222 Seawall Blvd
Galveston, TX 77551
Phone: (409) 744-1500
The San Luis is the height of luxury! If you're looking to treat yourself, look no further than this beautiful resort hotel! Beautiful pools, fantastic rooms with ocean views. The San Luis is the place to really kick back and relax during the convention.
Discover unparalleled luxury at The San Luis Resort, Spa & Conference Center, a 30-acre year-round beach front hotel and spa resort property on beautiful Galveston Island, Texas. Recipient of the AAA Four Diamond Award® since 2000, The San Luis Resort offers the perfect Galveston hotel and resort experience with lavish accommodations, breathtaking Gulf views and personalized service.
Dine in their award-winning restaurants, enjoy luxurious resort amenities and then step into the excitement of historic Galveston Island, which boasts a wide array of activities on land and sea with 32 miles of sun-drenched beaches, historic sites and famed shopping.
For their guests in need of some pampering, the world-class Spa San Luis offers a full-service spa, salon and fitness center. Sip a refreshing cocktail in their fabulous H2O ultra lounge or amid tranquil waters at our swim-up pool bar. Savor the freshest seafood and USDA prime cuts of beef at the award-winning Steakhouse or enjoy family-friendly fun at the Rainforest Cafe. After a day of basking in the sun and exploring all that the Island has to offer, relax and unwind in their Gulf-view guest rooms, which exude luxury and comfort.
You're invited to experience the very best for yourself in style, elegance and comfort at the San Luis Resort on the Texas Gulf Coast. Situated right on Galveston beach, the San Luis Resort isn't only a hotel and spa resort, but also a perfect venue for when you're planning a large conference, a series of small meetings or a beautiful, beach front wedding reception. Whether for meetings, weddings, a Galveston vacation with the family or a romantic getaway weekend for two, The San Luis Resort will accommodate your needs efficiently, graciously and completely.

Website:
https://www.visitgalveston.com/meetings-groups/galveston-island-cc/
Physical Address:
5600 Seawall Blvd
Galveston, TX 77551
Oni-Con will be held this year at the Galveston Island Convention Center. This has been our home since 2011 and we couldn't be happier to be here. We are honored for the support that Galveston Island gives us and are delighted that attendees can enjoy a fun, exciting weekend retreat at the beach!
If you have that anxious feeling where you know you need to get away, the answer is easy. It's island time! Leave the stiff and boring behind for the excitement of Galveston Island's beachfront facilities in one of Texas' top tourism destinations. Located just 50 minutes from Houston, this tropical island offers more than 5,000 sleeping rooms, 32 miles of beaches, rich history and culture, unique shopping and a variety of world-class attractions to make your meeting far from ordinary.
Offering sweeping views of the Gulf's sparkling waters, the Galveston Island Convention Center at the San Luis Resort is the perfect meeting destination. Located on Galveston's famous Seawall Boulevard, this 140,000 square-foot property combines executive conference facilities with luxurious amenities as well as complimentary wireless Internet, shuttle services and on-site parking.
Greg Ayres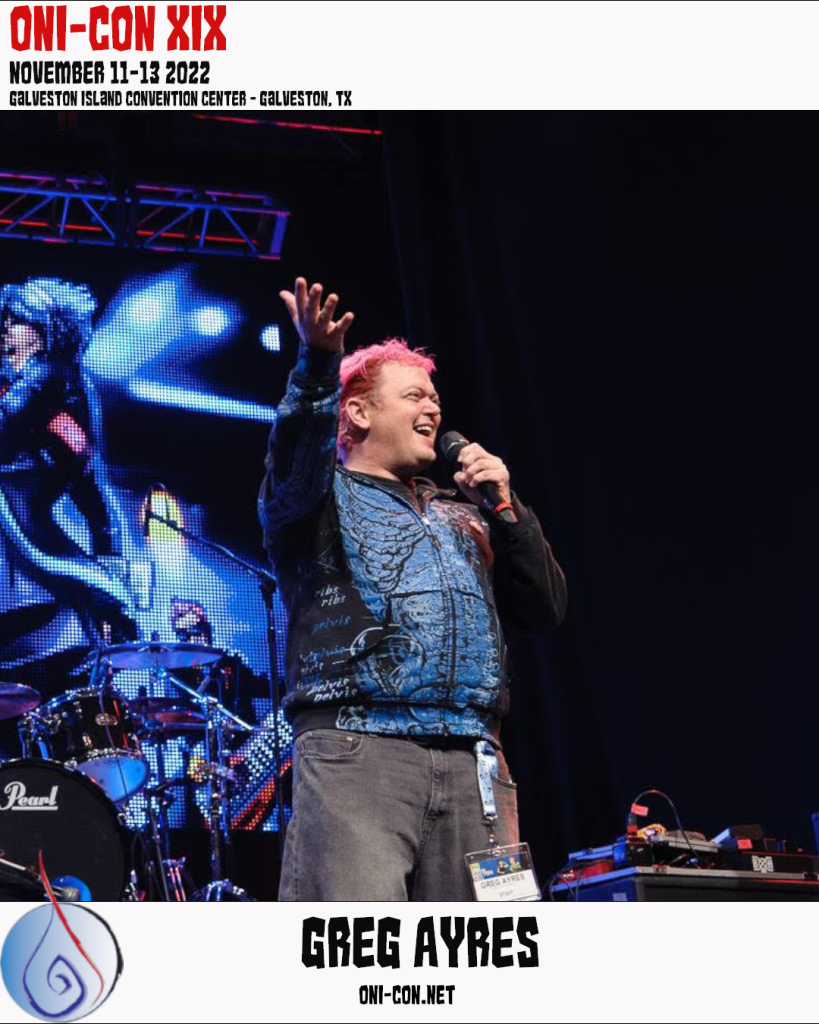 Greg Ayres has been blasting his way through the universe! With over 290 credits to his name, he has managed to play a variety of characters that are almost as colorful as his hair. He was thrilled to make his second appearance in the DragonBall universe in DragonBall Super as Frost, and equally excited blasting bugs as Geo in Sony Picture's Starship Troopers : Traitor of Mars. Some other recent roles include Jiro in Concrete Revolutio, Sho Utsumi in SSSSGridman, Ryuuou Edogawa in Doreiku, Koji Koda in My Hero Academia, and even makes an appearance as Popuko in Pop Team Epic.
He is proud to be a part of the new "Pink Harvest" productions for Sentai Filmworks, in the roles of Izumi Sena in Lovestage, and Yabase in Hitorijime My Hero. This year he was also given the opportunity to reprise one of his all time favorite roles as Son Goku in Saiyuki Reload Blast. Some other recent favorites include Nagisa Haruki in Free, and Free Eternal Summer, MonoKuma in Danganronpa, Clear in Dramatical Murder, and Doug in Gangsta, Yu Nishinoya in Haikyu, Zenji Marui in Food Wars, Ganta Igarashi in Deadman Wonderland, Heihachi Hayashida in Samurai 7, and Kouichi Sakakibara in Another.
Some of his all-time favorite roles include Son Goku in Saiyuki, Chrono in Chrono Crusade, Kaoru Hitachiin in Ouran High School Host Club, Youhei Sunohara in Clannad, Yuki in The Wallflower, Leo in Ghost Stories, Satoshi Hiwatari in DNAngel, Kaworu Nagisa in the Director's Cut of Neon Genesis Evangelion, Tomoki Sakurai in Heaven's Lost Property, and Negi Springfield in Negima.
Of all of his many roles, one of his favorite will always be the real life "Little Brother" to a guy with a great big Sippy Cup, and an even bigger heart – who touched the world with his "Love and Laughter".
Carli Mosier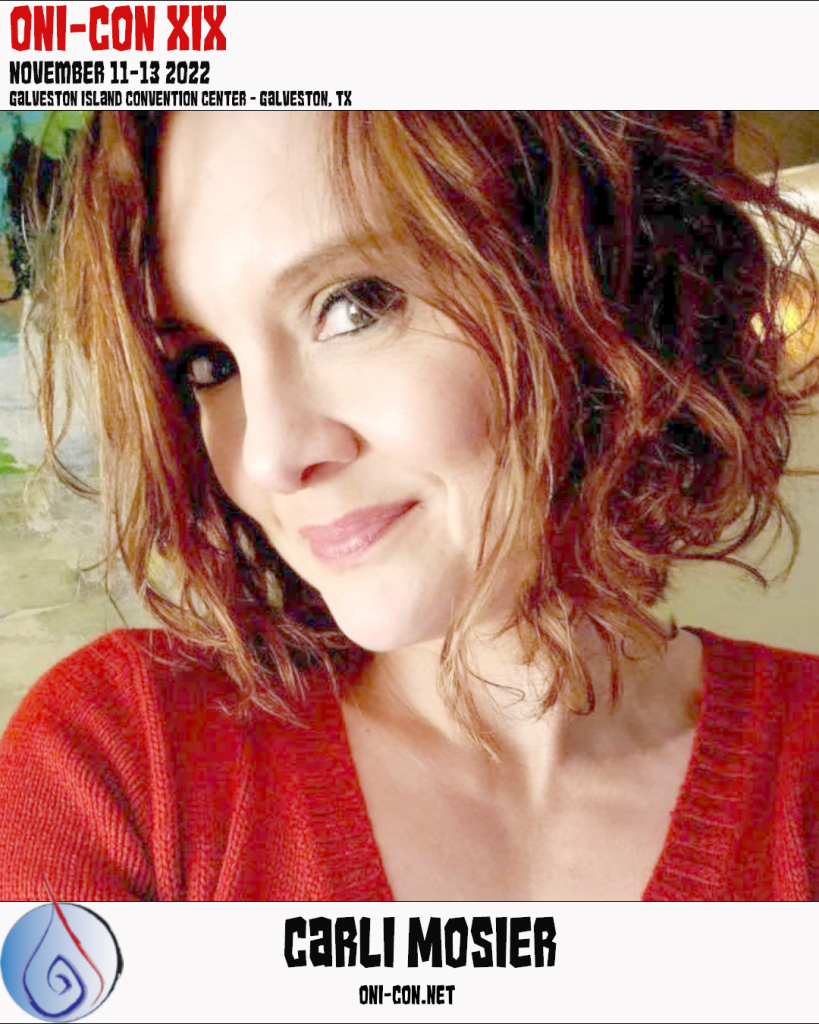 Carli Mosier is a native Texan who's been a voice actor for over a decade for ADV Films which is now Sentai Filmworks and Funimation. You've heard her in Halo Legends, Nerima Daikon Brothers as Detective Yukika, One Piece including singing the closing credit song for Season 5, Heaven's Lost Property, Baka and Test and many many more. Her favorite character to date is Toko Fukawa/Genocider Sho in Danganronpa. Most recently she's been in New Game as Shizuku and her fat cat Mozuku, Juliana Lloyd in Devil's Line, Garo: Vanishing Line, and her most recent show is Doreiku. Aside from voice acting, Carli is also passionate about civic engagement and wants to encourage all people to register and go vote! She is thrilled to be at this convention and hopes to see you this weekend!
Clarine Harp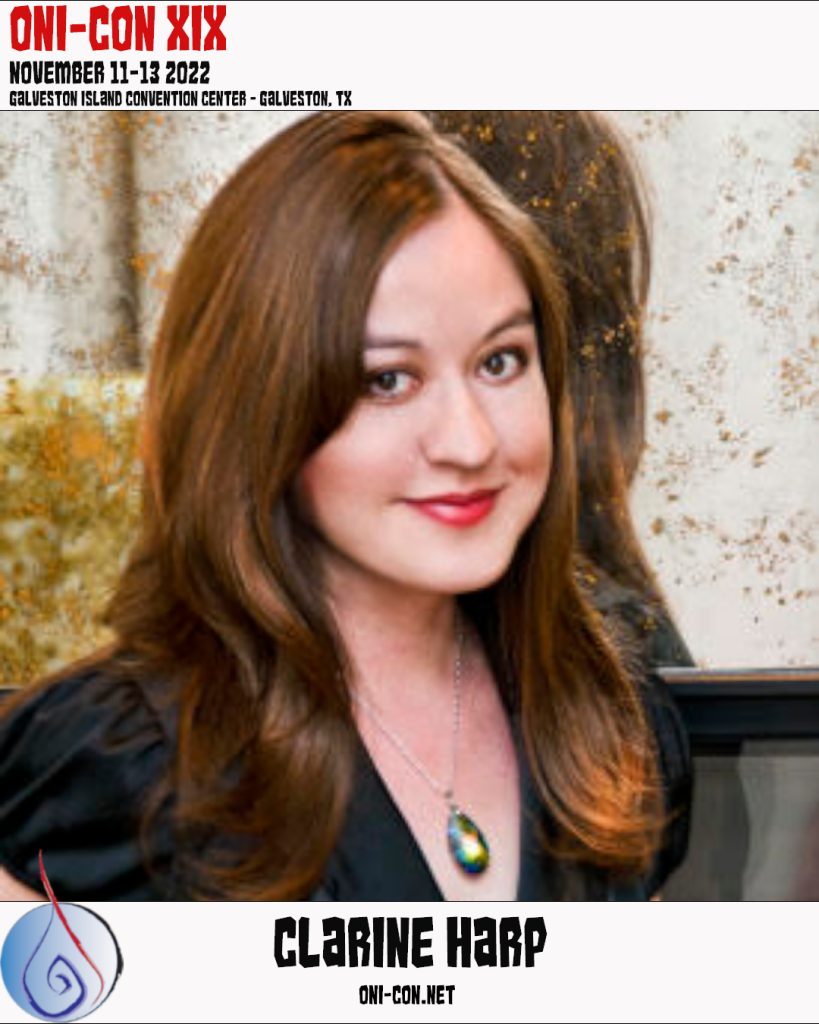 Clarine Harp has had a prolific career planning and producing on-disc content for Funimation Entertainment for hundreds of titles. If you have a disc in-hand, odds are likely she worked on it. Her team handled a wide variety of tasks, such as translations and subtitles, DVD and Blu-ray authoring, video and audio compression, editing, and engineering, quality control, content-planning, and much more.
In addition, she has performed many voice acting roles and is best-known for Hetalia (China, Taiwan), Burst Angel (Sei), Samurai 7 (Sanae), Speed Grapher (Ginza), Sekirei (Haihane), Negima (Kaede), Shin chan (Miss Katz), Witchblade (Asagi), Trinity Blood (Mary), RIN Daughters of Mnemosyne (Laura), and One Piece (Miss Monday, Usopp's Mother, and Ran), and Danganronpa 3: The End of Hope's Peak High School Despair Arc (Peko).
Clarine can also be heard in BT'X, Cat Planet Cuties, Chaos;Child, Chrome Shelled Regios, Corpse Princess/Shikabane Hime, The Sacred Blacksmith, El Cazador de la Bruja, Claymore, Jyu-Oh-Sei, Beck, Yu Yu Hakusho, Fullmetal Alchemist, Case Closed, Evangelion 1.0, D.Gray-man, Bamboo Blade, Aquarion, LASTEXILE – Fam, the Silver Wing-, Tower of Druaga, Ouran High School Host Club, Heaven's Lost Property, Jormugand, Unbreakable Machine-Doll, Yuri!!! On ICE, and others.
In her personal life, she is an avid knitter, collector of oddities, and general craft enthusiast. Unfortunately, her yarn habit is not compatible with the presence of her two cats and this regularly causes friction within the household.
Fun fact: Clarine is also the inspiration behind the character of Aubrey in the popular webcomic, Something Positive.
Follow her on Instagram: @clarineharp
Rob Mungle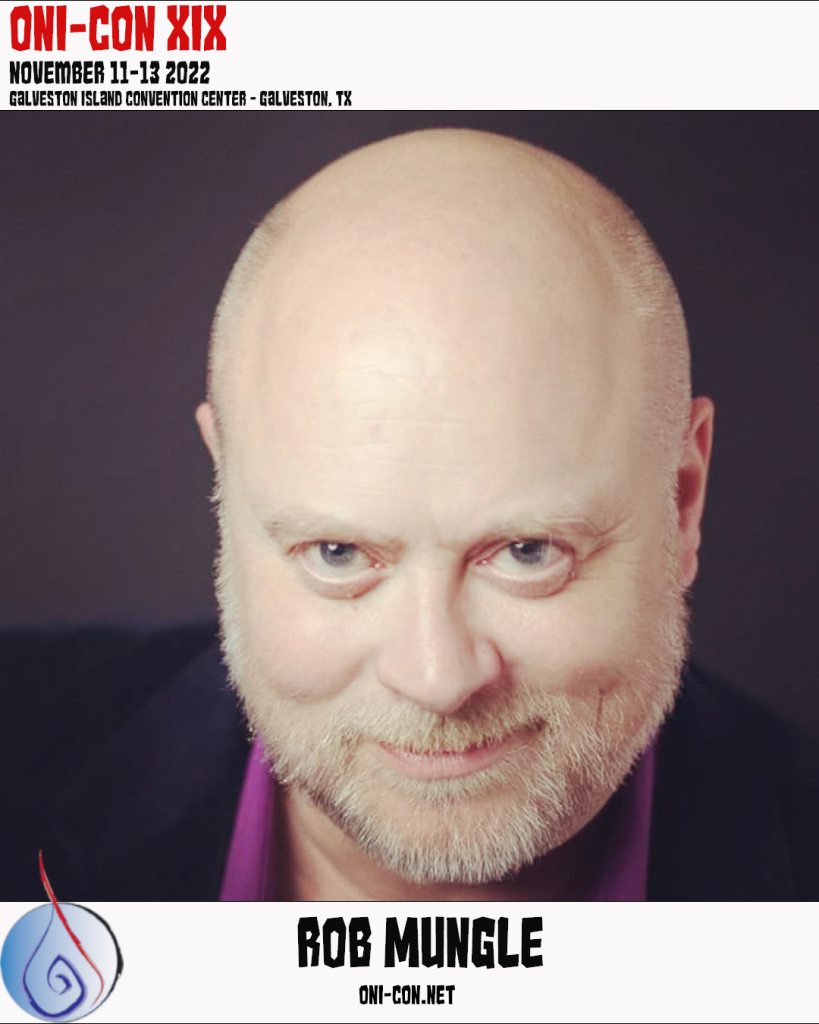 For nearly 30 years Robert L. Mungle has appeared in over 200 anime film and series titles.
From Gunsmith Cats, Excel Sage, Ghost Stories and most recently in Food Wars, not to mention numerous other projects, Robert L. Mungle has been a staple of the anime community and continues to appear at conventions around the nation.
He has also been an acclaimed stand up comedian and noted podcaster on the Whiskey Brothers podcast.
Michael Sinterniklaas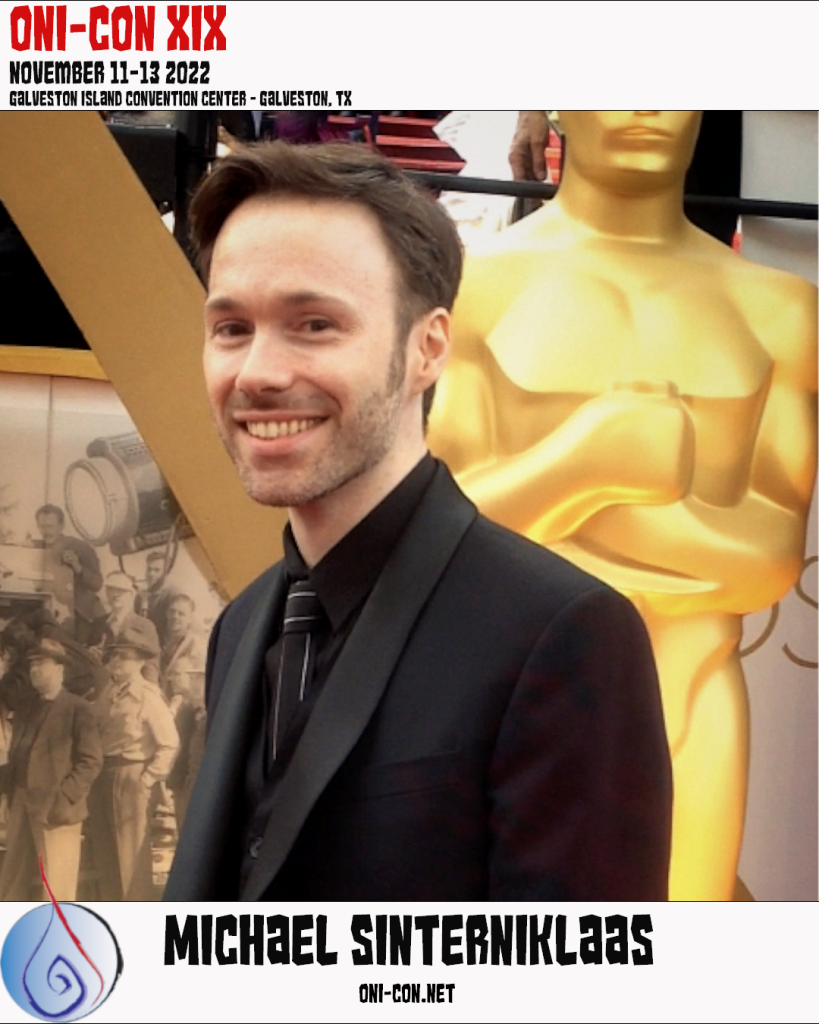 Oni-Con is happy to welcome back Michael Sinterniklaas! He has recently released the hit STARWARS VISIONS with Lucas Film on Disney+, BELLE with GKids, FENNA PIRATE PRINCESS on Adult Swim, as well as the re-release of the Trigger feature film PROMARE, Michael has worked as a director, actor, voice actor, script writer, sound designer, editor, engineer, mixer and producer. In 1999, Michael founded NYAV Post, a bicoastal recording studio that has worked on hundreds of films, series, video games and anime titles.
Michael has voiced many anime roles and is currently reprising Horo Horo in SHAMAN KING, Various roles in STARWARS VISIONS, Jyushimatsu in the Osomatsu Brothers, Netherlands in HITALIA and Nathaniel in Miraculous Ladybug. Other credits include Taki (Your Name / Weathering with You), Kenji (Summer Wars), Kia (Lu Over The Wall), Animus (Fairy Tail: Dragon Cry), Dagger (Black Butler: Book of Circus), Netherlands (Hetalia), Angelo (Gundam Unicorn) Xellos (Slayers Revolution and Evolution-R), Ivan Karelin/Origami Cyclone (Tiger and Bunny), Dark Magician and Mahad (YuGiOh), Sarutobi Sasuke (Sengoku Basara), Sora and Utakata (Naruto), Nnoitra, Luppi, Ikkaku, Wonderweiss (Bleach), Age (Patema Inverted), Takeru (FREEDOM), POP Team Epic,Joshua, Kennedy, Ross, Elijah and Seviper (Pokémon), Lucemon (Digimon).
Outside of anime, he is the voice of Dean Venture in The Venture Bros, Leonardo in Teenage Mutant Ninja Turtles (2003) Mikey Simon (Kappa Mikey) and even Funshine in The Care Bears. He has also appeared in video games such as RAINBOW SIX SIEGE, Final Fantasy XIII, Excom, GTA V, the Lego Movie Game, Xenoblade, Fire Emblem, Dragon Ball Xenoverse, Tales of Berseria and is the lead Yew Geneolgia in Bravley Second and to name a few.
Directing credits include: Studio Ghibli's EARWIG and the WITCH, FLCL Alternative/Progressive, MFKZ, Cannon Busters, YASUKE, Ninja Batman, Your Name, Mobile Suit Gundam Unicorn, Berserk, Magic Users Club, Ah! My Goddess, Samurai Deeper Kyo, Slayers Revolution, Slayers Evolution-R, and Giant Robo, and the video game release of Just Cause 3. He's also directed several non-anime series and features including Phantom Boy, Peter Rabbit, Super Friends, Robotomy, Bird Boy, and the Oscar nominated movies A Cat in Paris, Ernest and Celestine, My Life As a Zucchini and Mirai which also received a Golden Globe nomination.
Samurai Dan And Jillian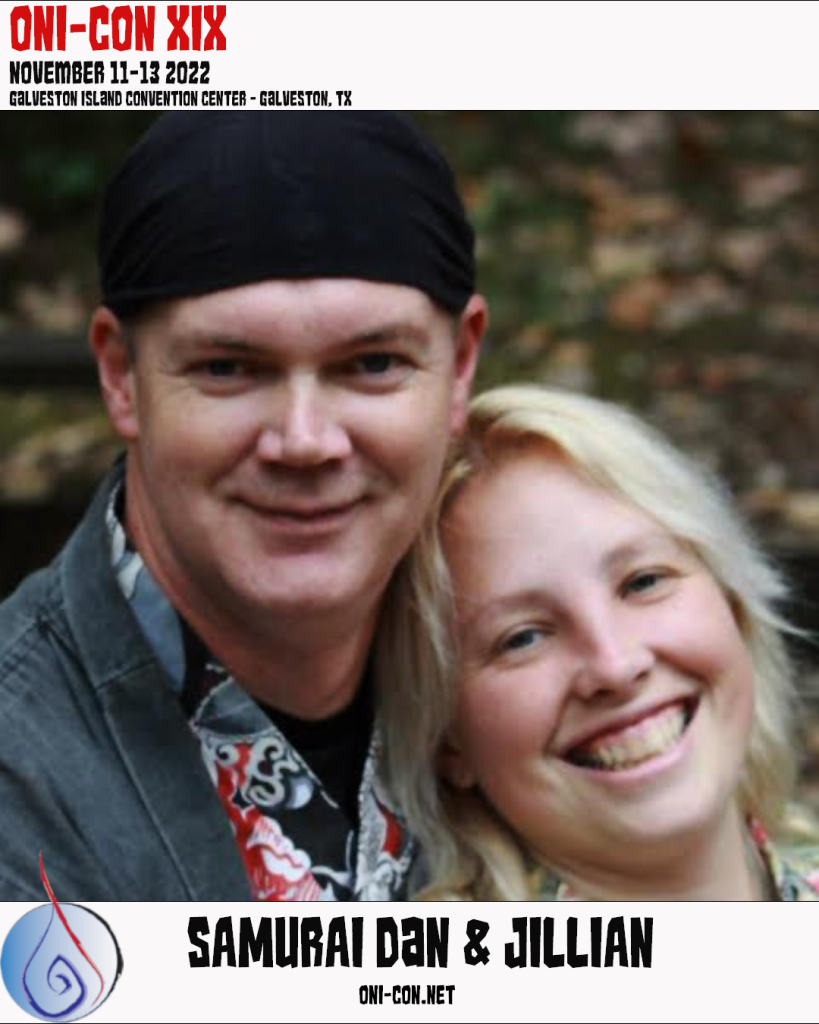 He's the merc with the mouth and his swordplay always comes with maximum effort…wait; it's not who you think it is! However, there ARE similarities: both fight with swords for pay, both run their mouths, both have beautiful love-of-their-lives, and sadly, both look the same beneath their masks/headwraps!
Samurai Dan and his lovely lady Jillian teach sword and self defense classes, give informational panels, perform stage shows, and do almost anything else to ensure that congoers enjoy themselves.
Linkara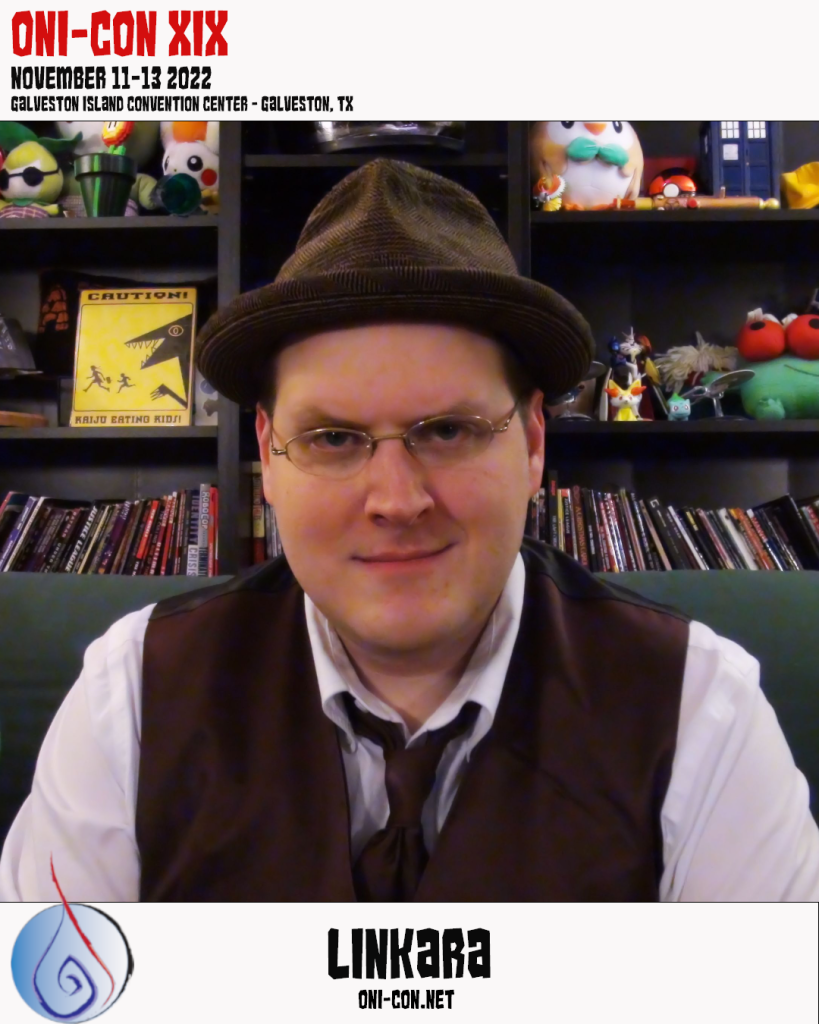 Writer, reviewer, madman – Lewis "Linkara" Lovhaug hosts the webseries Atop the Fourth Wall, a weekly show where he reviews terrible (and sometimes not-so terrible) comic books while teaching his audience about the history of the medium and the various confusing plot points that DC and Marvel have introduced over the decades. Every October he dons some white facepaint and black lipstick and talks about good horror comics every day as the ghoul Moarte in the series "Longbox of the Damned," but let's face it – chances are good you know about him because every once in a while he'll put up a multi-part, 3-hour long deconstruction of a season of Power Rangers. As the host of History of Power Rangers, he has done the important task that nobody asked for: deconstructing and analyzing a children's show where people in spandex punch rubber-suited monsters based on footage from a Japanese tokusatsu show.
Come see him at his booth where you can ask such timeless questions as, "Why don't you ever swear?" and "When's the next History of Power Rangers?" or the always timeless "Who are you and why are you stealing snacks out of my cupboard?"
Viga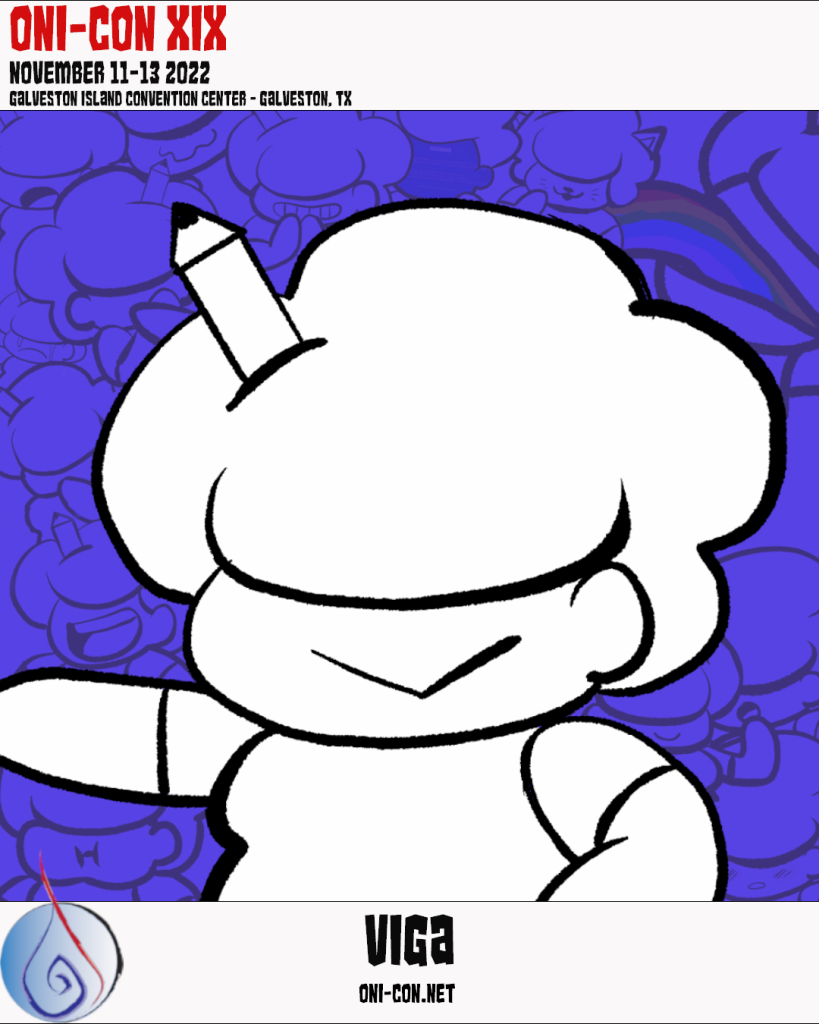 Viga is an artist, panelist and YouTuber from Minneapolis. When she's not just doing commissions or conventions, she's entertaining and educating on her art channel Viga's Art Room!
Kazha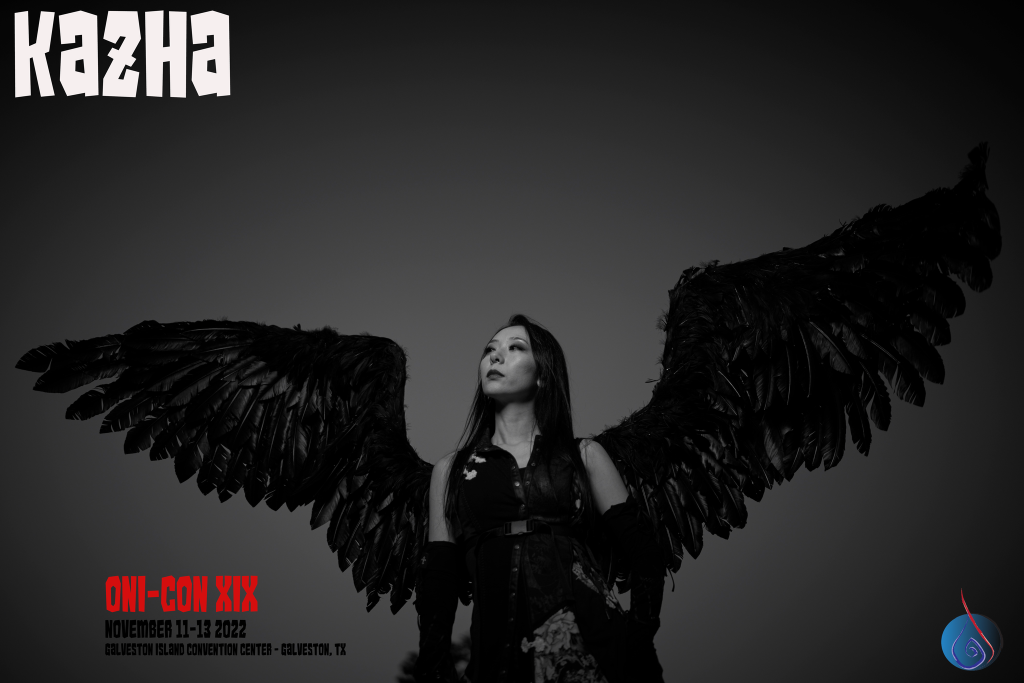 Kazha is a rock band founded by a Japanese singer-songwriter Kazuha Oda (Kazha) and a Japanese guitarist Hideki Matsushige in 2009. Kazuha Oda is a classically trained singer who has worked in various genres of music from Classic to Heavy Metal. She started out as a solo singer in Japan, and has worked with a wide variety of performers and producers including Grammy winner Bob James. Her work has appeared on the iTunes Top 100 charts of numerous countries for a significant amount of time.
After the release of their first album in 2010, Kazha made its first U.S.A. debut performing at San Francisco's Asian Heritage Celebration, sharing the stage with hip-hop group Far East Movement. In September 2010, the band made its first Anime Convention debut at Colorado's Premier Anime Convention Nan Desu Kan. Since then, they have been performing at numerous Anime, Comic, and Japanese themed events around the world. Kazha has shared the stage with national artists such as George Lynch, Tracii Guns, LA Guns, Y&T, and Trapt until now. Around 2015, the band chose Memphis Tennessee as their USA headquarters. Since then, they have been featured on local broadcasts such as WREG News Channel 3, Channel 24, and WMC Action News 5. Kazha now tours as an Official International Ambassador of "Music Export Memphis", representing the Birth Place of Rock'n'Roll Memphis, Tennessee.
Slyakagreyfox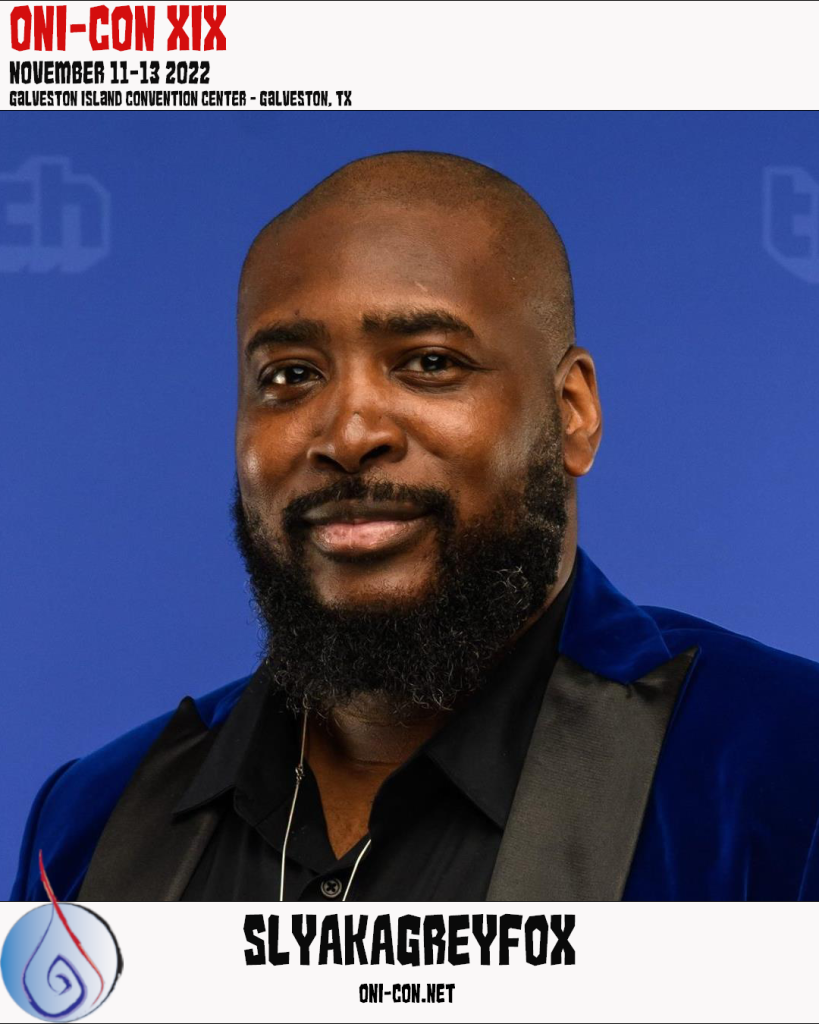 Hey y'all! I'm Slyakagreyfox, partnered streamer and your host of The Velvet Room on Twitch. Just to give you the Cliff Notes about me: I've been playing video games since I was 5 years old. I also have a love for anime, comics, beer, sports, Persona, Final Fantasy, Gran Turismo, a new found love for role-play (a la DnD), beer, food, giant robots, did I mention beer? 3 years ago I began my journey on Twitch. I wanted to create a place where you could come relax after a long day and watch me play video games and drink beer; one of the chilliest streams on Twitch. And while The Velvet Room is always growing, it will always be the place you can go to escape the daily grind. So feel free to stop by! Margaret will show you right on in!
Rookuri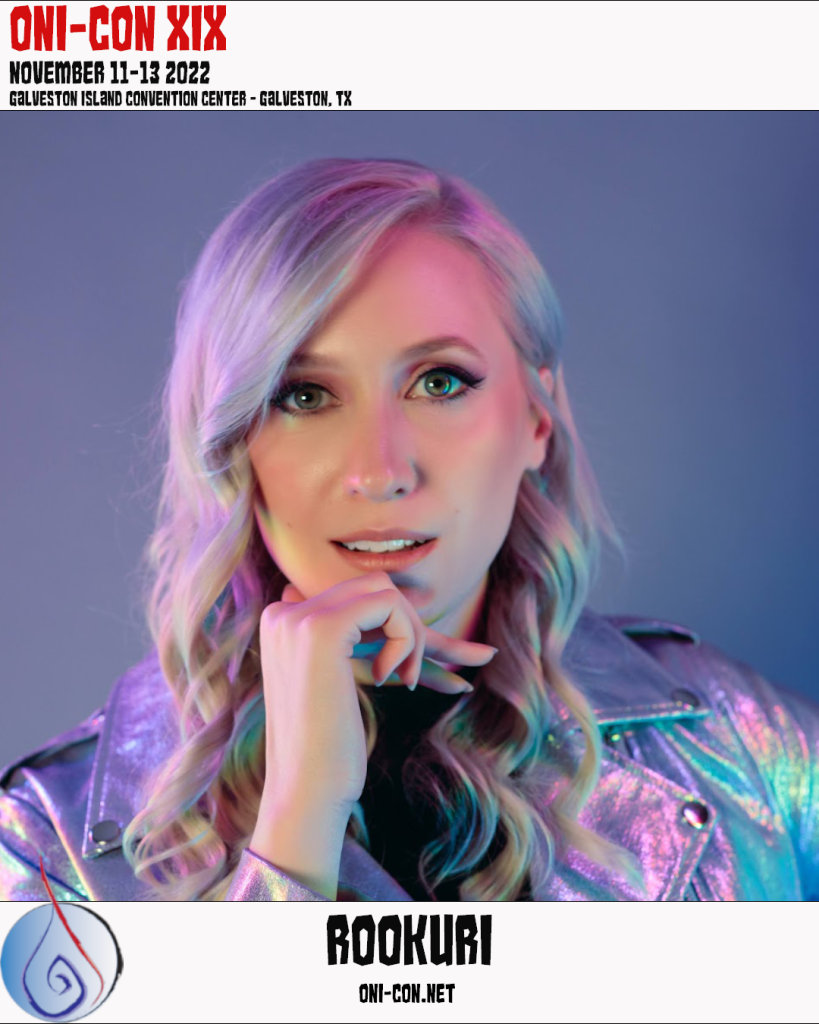 Rookuri is a partnered variety MMORPG streamer, creator, shoutcaster, podcaster, and host that serves community driven, interactive Final Fantasy XIV and Guild Wars 2 content with a big side of heart. In addition to her Twitch and Youtube channels, you can find her on two gaming podcasts: Aetheryte Radio and The Lightbringers. Featured by Twitch in many special events as well as the Crown channel's program Spotlight, Rook has additionally worked to raise awareness for mental health in several nation-wide Seize the Awkward campaigns. This past year, she performed as a pre-show host for two official Guild Wars 2: End of Dragons livestreams and now you can even find her as an npc in game! Rook was chosen to create content for the Final Fantasy XIV: Endwalker media tour and has shoutcasted high-end pvp and Race to World First broadcasts in both FFXIV and World of Warcraft.
Krissy Cosplays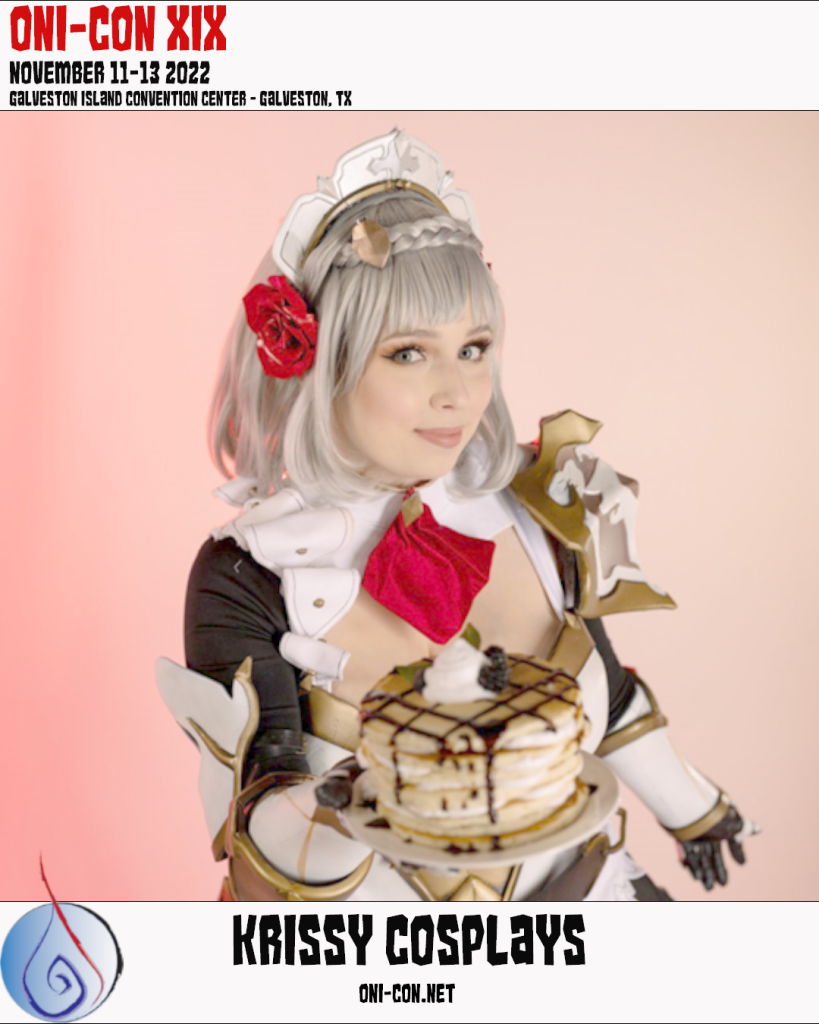 We are excited to announce Krissy Cosplays as a guest judge for our cosplay contest!
Krissy Cosplays (She/Her) is a 24 Year old maker from Houston Texas. She is always looking to broaden her skills with complex mixed media costume, with a specialization in EVA foamsmithing.
Krissy loves to help newcomers to cosplay and even creates digital files of some of her patterns so you can create yourself!
Sparrowhawk Cosplay
Sparrowhawk Cosplay is a native Texan costume designer and prop maker. With almost a decade of costume design and cosplaying under her belt she specializes in foam smithing, sewing, blueprint construction, patterning, weathering, sfx makeup and wig styling. Sparrowhawk's goal is to share her knowledge of crafting with others, in hopes of inspiring creative minds to enter the hobby in a way that is both technical and beginner friendly.
Saiyangod Cosplay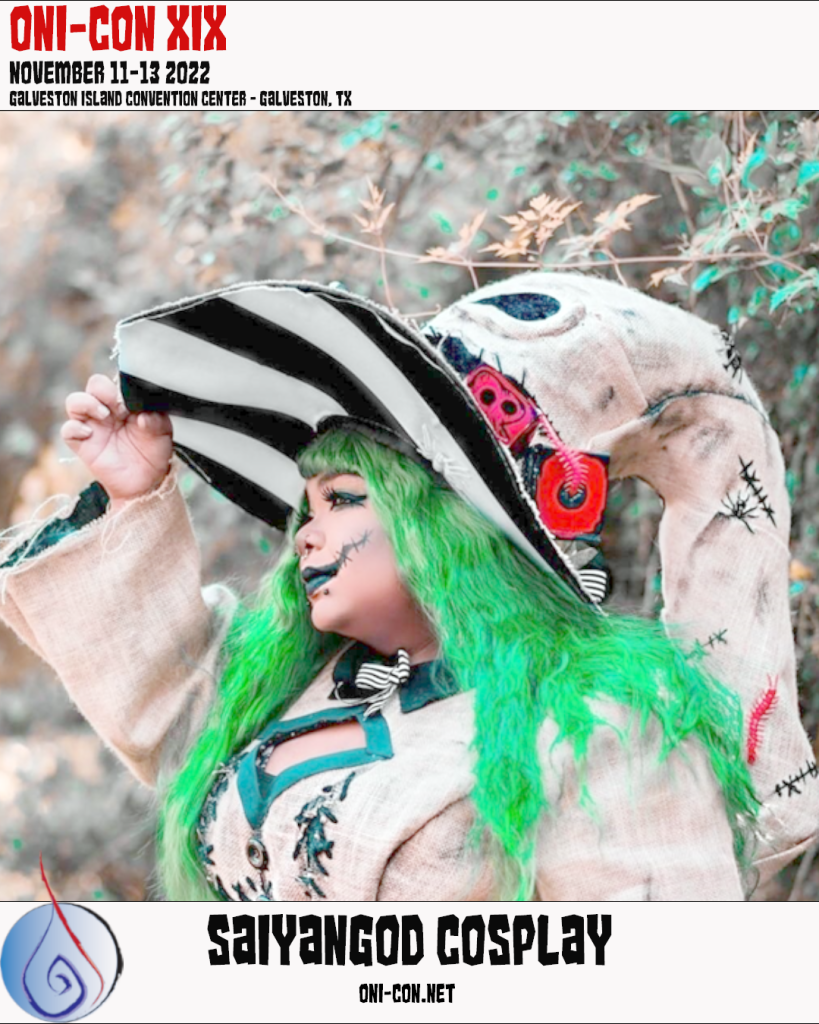 Saiyangodcosplay is an award-winning cosplayer from the Houston area. She began cosplaying around 2013 but didn't start building till 2019. She specializes in foam work, large props, sewing and small details. She has cosplayed everything from everyone's favorite Maiden Ranni the witch from Eldenring to Sundrop from fnaf and even the mean old oogie boogie from the nightmare before Christmas!
Cosplay Contestants! The Official Rules and Entry forms for this year's cosplay contest are now available!
We have done our best to make entering the competition as streamlined as possible. We are accepting online submissions via our website. The contest submissions will be open from October 28th, 2022 to midnight November 11th, 2022 or until we reach 45 Entrants. There will be 10 additional slots open for last minute onsite sign ups for Walk-Ons ONLY at the cosplay table, so please sign up as soon as possible since spots may go quickly. Onsite sign ups will only take place on Friday from 12PM – 5PM at the cosplay table. We will not be accepting any new skit entries or music for performances onsite or the day of the show.
Hidden
This accordion is hidden to keep the first accordion element from showing as open by default.
General Rules
Craftsmanship requirement is that at least 50% of your costume must be made by you, or someone in your group. Mass produced or commissioned costumes are not allowed entry, unless the commissioner is present. This does not include wigs or shoes.
Performance/Skit entries are not required to perform their skits for the judges, but if they wish to be considered for craftsmanship based prizes, or the Best in Show award, they are encouraged to opt in and attend prejudging.
We will not be accepting custom audio for Walk-Ons. Skit entries must submit their prerecorded audio tracks digitally in MP3 format and in advance. We will not be accepting any new skit entries or music for performances onsite or the day of the show, but we do encourage you to have your music backed up on a thumbdrive in case of emergency or corrupted audio files.
Please keep in mind that there will be children in the audience. Please keep your costume and/or performance equivalent to a PG-13-rated film. No explicit sexual references, gestures, or language will be allowed. Any presentation that violates this rule will be disqualified and may be asked to leave the stage during their performance. Usage of any foul or abusive language is grounds for instant disqualification and removal from the contest. Contestants are not allowed to throw anything off the stage, nor use projectiles or use anything on stage that will leave a mess. This includes (but is not limited to) liquids, glitter, and confetti.
All participants are encouraged to keep at least one foot on the stage at all times, and keep fight choreography at ¾ speed. If you have a question about something you want to do, feel free to send an email with "Costume Contest Question" as the subject to: cosplayinfo.onicon@gmail.com
No pyrotechnics, fire, explosive devices, live animals, or similar special effects can be used during the competition; this includes smoke/smog machines and flash paper/powder. Anyone who violates this rule may be disqualified from the competition and be asked to leave the convention area depending on the severity of the incursion. All prop weapons must be checked by the weapons check prior to entry.
The two methods to compete:
Craftsmanship/Walk-on – Walk-Ons will go on stage individually, hit two to three poses and then exit. Walk-Ons have up to a minute on stage. (If you are doing a Walk-On you are automatically required to attend pre-judging in order to walk on stage.)
Performance/Skit – Skit contestants will go on stage, perform their skit, and then exit. All skit entries will get up to three and a half minutes on stage for their performance. (Skit entries DO NOT need to be part of Craftsmanship judging unless they opt in.)
We allow entries from all forms of intellectual property, (any Movie, Show, Manga, Anime, etc.)
Divisions
Even though our awards will not be straight forward towards divisions, the judges will still be judging according to this criteria –
Beginner – Anyone who has never won a major costume contest award.
Intermediate – Anyone who has won between one to three major awards.
Advanced – Anyone who has won four or more major awards.
Pre-Judging
Prejudging will take place in the Autograph Room (Panel room number TBA) at 1PM Saturday November 12th and go until 3:30PM. You will get 2 minutes with the judges to explain your construction.
We encourage you to bring reference photos of your costume and character as well as a few photos of your work in progress. This isn't a hard requirement, but the judges may not be familiar with your character.
Cosplay Line-Up will be in the auditorium on Saturday November 12th at 3:30PM in Main Programming. Cosplay Line-Up is mandatory, since this will be roll call and lining up for the stage show. If you are not present for this you will be subject to disqualification and not allowed to compete.
Awards
Best in Show
Best Craftsmanship
Best Performance
Best Rookie
Judges Awards
All "best of" awards will be receiving weekend passes to our 2023 convention. Additional awards TBD.
After reading the rules, please keep in mind the following before sending us an online copy of your entry form:
Badges are required and contestants will be required to have badges when checking in to the Cosplay Contest. While you will not need to show proof of registration when you send us the form online, you will be required to show proof of registration (your badge) before physically entering the cosplay contest room.
pre-recorded audio for skits must be submitted in the form of MP3 to cosplayinfo.onicon@gmail.com by midnight on Friday November 11th. Please include your name, cosplay name, and specify you are a skit entry in the body of your email with the name "OniCon 2022 skit audio" in the subject.
The last day to enter the contest online will be Friday, November 11th by midnight unless the entries are capped.
You can send your form, or any cosplay contest questions to: cosplayinfo.onicon@gmail.com
We look forward to seeing you on stage ~ !
Mask / Covid Policy
Oni-Con encourages attendees to take precautions for their own safety. Masks use is highly encouraged while inside the convention center. Additionally, masks will be required while at Registration or interacting with Registration staff. This is for the safety of our staff.
We also ask that all attendees politely respect the Guest's wishes if they request you have a mask on during their autograph sessions.
We remind you that proof of vaccination and masks are required to participate in the Oni-Con Battlegrounds events.
We thank you in advance for your cooperation.
General Conduct Policy
Please be kind and courteous to your fellow attendees, guests, dealers, and staff at all times. Disruptive behavior is not allowed.
Oni-Con follows and adheres to federal, state and local laws at the convention, just as you would at home.
Convention staff, guests, and attendees may not be in possession of any item defined as a weapon, Illegal or not. (see weapons policy for more detail)
Convention staff, guests, and attendees may not bring any animals onto the premises, with the exception of ADA working animals with the proper verification and papers.
Badges must be worn at all times, and must be visible.
Shoes must be worn at all times.
No sleeping in any convention areas at any time.
Alcohol is not permitted in any convention Space.
Usage or possession of illegal drugs is strictly forbidden.
Oni-Con badges must be purchased in order to enter any convention space. If you do not have a badge you may be asked to leave until you purchase one.
Harassment Policy
Harassment of any kind, including physical, verbal, or unwelcome attentions will not be tolerated.
Do not hug, grab, kiss, or glomp anyone who has not given you explicit permission or consent.
Verbal harassment will also not be tolerated. This includes derogatory terms, hate speech, and all manners of verbal abuse.
Any action or behavior that causes interference with convention operations, makes other attendees uncomfortable, or adversely affects the convention's relationship with its guests, the venue, or the public is not allowed.
Violations of this policy will result in your badge being taken and you being asked to leave. Law Enforcement may be involved in particularly egregious cases.
The rules most certainly apply to cosplayers. Cosplay is not consent.
What to do if you feel you are being harassed:
If you feel you are in imminent danger, please find the nearest uniformed police officer and let them know what is going on. Otherwise, find the nearest staff member and let them know that you would like to speak to the Director of Safety or his assistant about a harassment incident.
Try to remember as many details about the incident, and about the person who harassed you, as possible. Take down the names of any witnesses.
Event and Line Policy
Please keep lines single file, and stay close to the walls/barricades.
No cutting, or shoving into lines
Don't argue with the staff if they attempt to correct or give you suggestions.
Keep in mind that the staff is not yelling at you, but they have to speak loudly enough for the entire line to hear which can be difficult at times.
When the event space opens, please fill in seats. Try not to leave empty spaces.
Any event specific rules will be announced at the start of the event. Please listen while they are being announced.
Programming and schedules have a habit of changing without a great deal of notice. While we realize that it can be annoying to you, the attendees, it does happen.
Music and Dance Events Policy
Safety staff reserves the right to refuse entry.
No bags larger than a handbag are allowed inside. This includes: laptop bags, backpacks, duffle bags, and messenger bags.
Safety staff will not be responsible for bags/items.
Safety Staff may initiate a voluntary bag/pocket check for contraband.
Shoes must be worn at all times.
The stage area is restricted. All areas backstage and behind the stage perimeter are restricted areas as well.
Harassment of any type will not be tolerated. If you are being harassed, please indicate so to one of the safety members.
Any solicitation of alcohol or drugs, will lead to an immediate expulsion from the convention (without refund), and turned over to the local authorities.
No light sabers, prop swords, or weapons of any type allowed in the dance
String lights or swinging of any item on strings must be done on the outer perimeter of the dance area.
Throwing anything at or on the stage will result in removal from the dance
No fighting, or "dance fighting"
Dance Circles are prohibited, and will be broken up…
Be aware that there will be flashing lights, and the possibility of a fog machine or hazer. Attendees with a history of seizures, asthma, or any other condition that may be aggravated by these elements should avoid this event.
Oni-Con Cosplay, Weapons, and Props Policy
The Costume Contest is a special event that will have its own special rules for cosplay props and weapons you can use for your costumes during a performance or the main show.
Any exceptions made during the show are only for the show. Any item that is approved for Cosplay but not for the general con must be taken directly to and from the Cosplay contest, with no side trips or delays.
NO LIVE STEEL. At all, even peace-bonded.
If you buy any weapon from the dealer's room it must be transported out of the convention immediately to your room or car.
It may not be carried around without being in a box of some sort, dealers know this and will provide it to you.
Do not remove the item from this box.
Airsoft guns will have their barrels taped up by the safety desk. Do not remove this covering.
Same rules about items from the dealers room apply.
All approved props will be marked.
You agree that Oni-Con is not responsible for damage to your props.
Props that present a danger to others because of weight or sharp edges or any other reason may be disallowed at any time.
Do not swing props around.
Do not engage in any sort of mock combat or strike anyone with props, even for fun.
No firing of projectiles of any kind.
Any violations of these rules may result in you getting ejected from the con without a refund, and/or Law Enforcement getting involved.
A few guidelines about acceptable props:
No metal.
No glass.
Light woods only. While a dowel rod is okay, a baseball bat or 2×4 is not.
If your prop is heavy, it needs to be well padded.
Avoid points or sharp edges.